SKATERDATER
-skater dater Original Sound Track
Produced by : MIke Curb, Nick Venet
featuring : DAVIE ALLAN and the ARROWS-stereo-USA-
(LPS3004-MIRA-1966-LPCD)
'
TORRENT AVAILABLE LIMITED TIME (posted mar.06 2010)
http://www.demonoid.com/files/download/2161990/5601005
A super-fab Surf Skateboard excursion into (at the time) the shape of things to come.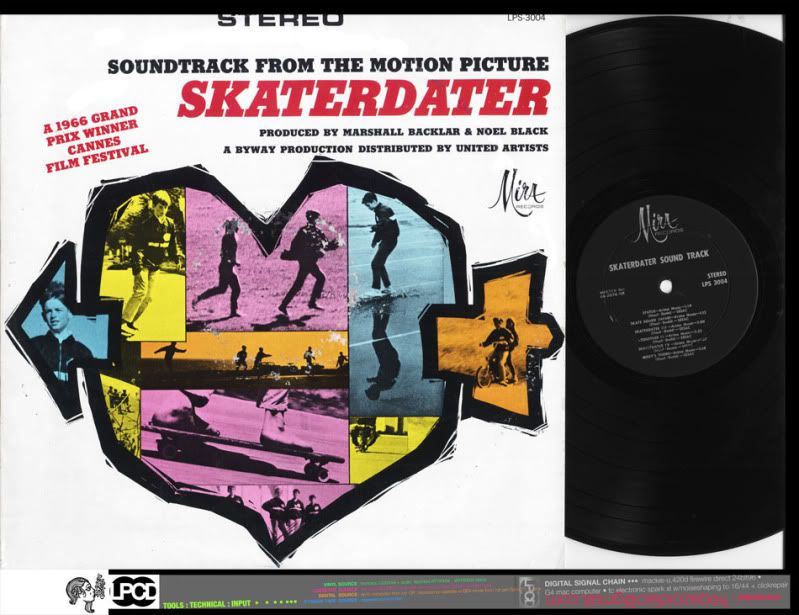 This is Davie Allan's First or 2nd LP.
It's a bit vague in the timeline-
It could be the Apache album.
They were both recorded 1965, but the Skaterdater LP was not
released until 1966.
On this LP you see the prototype for all Davies' sounds to come.
The songs from the Born
Losers OST (first Billy Jack film with Tom Laughlin) have been adapted from this LP (skaterdater) It's true prototype material.
Skaterdater is a short film that was released in 1965. It was Produced by Marshal Backlar, and written and directed by Noel Black and was the winner of the Palme d'Or for Best Short Film at the 1966 Cannes Film Festival.[1] It was also nominated for an Academy Award in the Best Short Subject category. First prizes in international film festivals including Moscow and Venice.

The film tells a story with no dialogue. The surf rock-esque soundtrack was composed by Mike Curb and Nick Venet with Davie Allan and the Arrows playing "Skaterdater Rock" [2].

It was the first film on skateboarding. It was distributed theatrically, both domestically and internationally, by United Artists. It was reviewed extensively, including "Time Magazine".

The skateboarders were members of the neighborhood Imperial Skateboard Club from Torrance, California. Their names are Gary Hill, Gregg Carrol, Mike Mel, Bill McKaig, Gary Jennings, Bruce McKaig and Rick Anderson. Most of the action shots were taken in Torrance, Redondo Beach, Palos Verdes Estates. The final shot was Averill Park in San Pedro.
Two-frightfully gifted guitarists-sound inventors
Davie Allan (left) - Jerry Cole (right-r.i.p.)